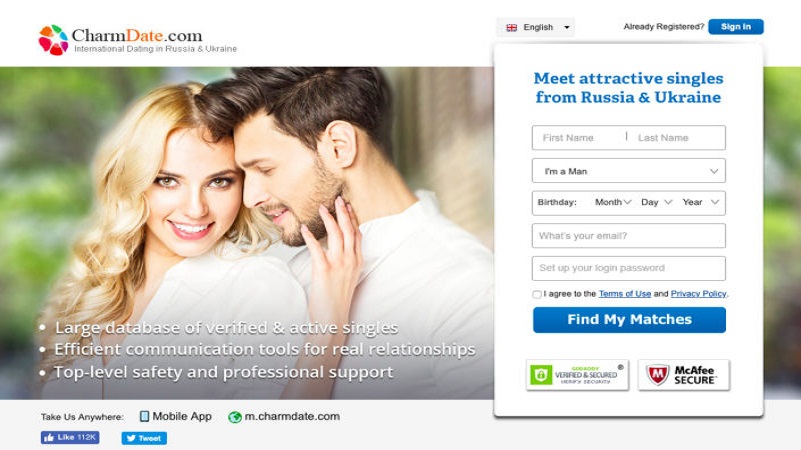 CharmDate.com Review – There is no doubt that CharmDate.com is one of the oldest running dating sites today. It has been around since 1998, helping millions find their ideal partners and create lasting relationships.
The site is owned by the Qpid Network, a company that runs a number of niche dating sites like AsiaMe, LatamDate.com, and ChnLove.com. Just like these sites, CharmDate has a specific target market. It is said to be one of the most popular online dating sites that allow men from across the world to meet and match with gorgeous Ukrainian and Russian women. It is also known for being a foreign marriage website where people find love.

Local Dating Agencies – CharmDate.com
In CharmDate's own descriptions of its services. It says that they rely on a "huge network of local dating agencies all across" Russia and Ukraine. When I dug a little bit deeper into this issue, it became apparent that this means many of the women are part of large, shady schemes to make money off of foreigners.
RELATED ARTICLE: EuroDate.com
Frequently Asked Questions
How to edit profile details on CharmDate.com?
Go to the profile section and where you can edit your details. But you cannot change your name, date of birth, residence country, and current relationship status. If you want to change these you can contact with Charmdate support team.
What about online security on CharmDate.com?
Charmdate takes online security and privacy very seriously. The most innovative and cutting-edge technology to ensure registration and usage is under a high level of security and protection. Online data processing and payment systems are protected by GoDaddy and McAfee, leading authorities in online security. The processing services used by the site is verified by Visa and MasterCard SecureCode.
How to search members on CharmDate.com?
To search for a member in CharmDate, you can use the options listed below:
New Members - click on the Newest Members link in the photo gallery section to view members who have recently joined the site.
How much do the services in CharmDate.com cost?
These are the list of pay-to-use services:
EMF Mail - 1 credit each read and send
Live Chat - 0.5 credits per five minutes (for text-only with one-way video chat). Emojis, stickers, and photos cost additional credits.
CamShare - 0.6 credits per minute
Call Service - 1 credit per minute
Gifts and Flowers - prices are listed on the site.
What is Call me to feature in CharmDate.com?
With this feature, you can authorize your contacts to call you. It's free to make an authorization but for the call itself, you will have to pay it. Your contact can then call you during your specified time.
What are Special Features in CharmDate.com?
CharmDate has a lot of innovative ways to let you communicate with people you like.
What payment methods are accepted on CharmDate.com?
To purchase credits, you can use credit or debit cards including Visa, MasterCard, American Express, and Discover Cards. All credit card information that has been submitted on the site is encrypted and highly secured.
How do I know the members on CharmDate are real people?
All the lady profiles are verified. That means they have submitted a copy of their personal identification document with their photo.
Is CharmDate.com expensive?
In comparison to other providers, CharmDate is upper-moderate.
How do I delete my account on CharmDate?
Like other online dating sites, it is difficult to remove the account. To delete your account on CharmDate firstly you need to remove your images, profile details, etc. And then send a request to the Charmdate support team to delete your account.
Phone Number : +1 800-931-5079
Address: 71-75 Shelton Street,
London Asia, WC2H, GB
Reviews
Don't waste you money on this site
Don't waste you money on this site, they should be reported to the BBB and maybe taken to court for their business practices. If they had any sense of decency they would give me my money back, but we all know that wont happen. Spread the word that this site is junk, to help others not waste their money on it.
THEN STAY AWAY FROM THIS WEBSITE
So, if you are looking for real love, a partner, or even a real person looking for someone else. THEN STAY AWAY FROM THIS WEBSITE. This app is only for porno site commercials. Nothing real here. Choose a different website.
The absolute worst experiences
Matched with people outside my age range, education, income, and common interests. I had to block 3 of them because of rude messages. I had messages from guys. They were very inappropriate. One guy was looking for a woman to present information at seminars on sexual compatibility or so he said. Another one was a convicted felon found guilty twice with 2 different women of domestic violence, stalking, and strangulation. A couple more were Trump supporters who harassed me after I said I was not interested. The absolute worst experiences I've ever had with dating.
This site has no security
This site has no security, there are so many fake profiles and scammers. I personally was scammed 4 times on this site. When they are going to Europe for business and need money, RED FLAGS. I've never had so many issues with hacking my profile, trying to get my credit card number. But the scariest is when you are stalked, police have to be called and Our Time does nothing because it's against their policy. Never, ever ever again!!!!
It was nothing but a time-waster
This website is some kind of dead end: you go round and round in circles, keep wasting your money and nothing ever happens. I ended this pointless " journey" with no results when I decided that it was time to stop them from taking my money and giving nothing in return. This "service" was not helpful at all. It was nothing but a time-waster.
Beware of this site
I joined this website two weeks ago in an attempt to meet someone. What I found out was that the profiles of the members were all fake and bogus! Scammers are combing this website collecting your personal information in an attempt to do something illegal with it. Not one member was interested in chatting or getting to know me personally but would instead ask inappropriate questions about my personal life. My advice to anyone, beware of this site because your information may be in jeopardy!
The website is terrible
If I could give no stars I would. There is no filter. Age, location, none of this matters.They just send anyone who is of the opposite sex. And the profile is useless. No important questions are asked, and it wouldn't matter anyway. The website is terrible. Please don't bother with this site if you haven't already signed up. Its basically tone deaf and useless.
overall 1 star
As you can see it's an overall 1 star review because when you try to cancel they still renew your contract
It's an absolute JOKE
What are people doing about getting sucked into the 12 months contract? Can anyone help me? I refuse to pay as I did NOT sign up for 12 months. Will this give me a bad credit rating? I have spoken to this site and got absolutely nowhere. Now I have a collection agency after me. Absolutely FURIOUS!!!! The 800+ negative reviews should speak for themselves. Seems I'm not the only person sucked into this death trap of a contract. I will keep fighting this as it's an absolute JOKE. If anyone could please share any help and/or shed some light on how to go about this, I'd really appreciate it.
Not worth it
They do control what you want to say, they read your email, they block your email address or cell number, not worth it, and also I think all female are working there, why should a female has 3 or 4 profile with different age, and different name on profile.
THIS APP IS A SCAM
THIS APP IS A SCAM. I've used this site on and off for several years with no issue, but have never met anyone genuine — only men interested in hookups. As soon as I decided to bite the bullet and pay for a premium subscription, I was randomly and arbitrarily banned. I went over their guidelines repeatedly and had not broken any of them. I was kind and respectful. I represented myself authentically. I sent original messages. All of this in spite of the fact I often received suggestive and explicit messages from men and they did nothing about it. When I tried to ask WHY I was banned, they refused to say why — just took my money and refused to provide a refund. There is absolutely no way to speak to a human or customer service representative directly. They have absolutely no care for their customers and are clearly misogynistic despite proclaiming themselves to be a feminist app. RUN
This app is dangerous
This app is dangerous as hell lately. The male side is extremely predatory and there's more than enough stories of people being sexually abused and their abusers still being kept on this site. The women side is full of pathetic little cretins begging for followers or onlyfans subs. It is, as a literal fact, 94% people posting their links now. They lie and steal your money too, they'll drop dozens of fake likes and when you try the paid option they vanish. Imagine an app owned by a women trying to be different and safer and all this capitalist tramp cares about is money. Doesn't kick rapists, fake profiles, pedophile bait, hundreds of underage girls, hundreds of women lying about their age. Absolutely disgusting. Use reddit to get OF followers and if you're desperate for instagram followers?get a life or leave because it's pathetic how desperate some of these people are
Don't waste time
Don't waste time looking for a real connection here with a selfless person.
Never pay for a subscription
Never pay for a subscription or you will regret it!
It was a good way to meet people
A newbie to dating in general so it was a good way to meet people I normally would not have had the opportunity to meet.
It took a long time
It took a long time to meet someone. Three yrs. They live in another city. Don't know if it will work out or not but he is a nice man and he loves me.
A total waste of time
A total waste of time and I was refused a refund.
Don't waste your time with them
The only ones left are complete undesirables – mentally unhinged drama queens or social misfits. I got sick of all these weirdos. All I was getting there was the feeling of bitterness and disappointment, so I left it. Talking to bots, scammers and drama queens leads to nothing, so don't waste your time with them.
DONT GIVE MONEY
DONT GIVE MONEY. Fake views lead you on into buying a subscription and add ons, so that you can message others and they can message you.
Seemed much more genuine
From comparisons with dating sites I have tried before this seemed much more genuine, less fake accounts and no scams like on many other sites. I like there were no 3rd party adds and it was simple to use on the app.
The site offered opportunity
One had to be patient and communicate intelligently. The site offered opportunity to explore humanity with anonymity. Making it a safer venue.
This website gives me peace
This website gives me peace of mind with its authenticity photo matching system. Daunting as it was to start with, I became more confident using it as the views increased. The only downside would be that there were guys that I liked that I messaged but did not respond. Common courtesy would be a quick message to give a reason for not wishing to connect.
Really awesome people
I've been on here before, a lot of interest this time which was awesome. Met some really awesome people this time which gave me a great insight to who is looking for that connection
This dating app definite helped me
This dating app definite helped me get out of my comfort zone. Thank you for the opportunity, I will be forever grateful that this site provided a safe place for me to build confidence.
I found the girl of my dreams
I think overall was stoked with the results so far. I went out on a few dates and had a good time hooking up with some cool people. So far can't say that I found the girl of my dreams yet but I am just not really looking for that now anyway. I'm using their app on my cellphone and it's fast and there always fresh faces to rate and people to chat with.
Great variety of beautiful girls
I hope I will find someone good.
The site offers traditional exchange
The site offers traditional exchange of email messages, chatting in real time, video calls and telephone calls. These options are paid for by credits that you buy beforehand. There are also gifts that you can send using the site – emoticons and smileys that you buy for your credits as well and send to that special person that engaged your attention.
A great experience. Thanks
A great experience. Thanks
This app is very amazing
This app is very amazing a useful for all people , it give them the opportunity to connect with each other easily and give them very good things , thank you very much for this good job
A really good sign up process
A really good sign up process, and a good section of people on this dating site. Tried many dating sites and apps but this is really good
No doubt about it
No doubt about it. It is one of the best I have used! From my personal experiences I can tell that it is absolutely worth joining and in my opinion the best site I've used. Don't be fooled by the negative reviews. As usual: Guys with wrong expectations!
I liked this
I liked this. I found someone that was a real other half to me. I wish everyone the same success that I had.
This site was perfect for us
After a few absurd messages from some clearly diluted individuals.. I actually met the woman I'm now marrying on the May this year. This site was perfect for us.. i highly recommend it. So thanks.. for finding me my wife
Be very careful
Be very careful when you give them your credit card. Make sure you you don't get charged automatically. Or better, use a site that is more honest about their practices.
Completely fake app
Completely fake app. It shows you lots of girls / guys interested so you sign up. But they're mostly fake created to make you believe it's worth signing up.
AWFUL, HORRIBLE WASTE OF MONEY
AWFUL, HORRIBLE WASTE OF MONEY. Go to any bus stop, and you will have better luck.
Nothing but a scam.
I won't bother with describing worthlessness of their so-called "services", since that is more than adequately documented in the other reviews. What really pisses me off is that you can't access your account to delete it until you pay for a membership. Nothing but a scam.
Never pay for a subscription
Never pay for a subscription or you will be very sorry!
Ripoffs
Well majority of the girls on the side were scammers from different locations. All they wanted was money telling you a sad story. It just was a joke. It's not just this one. They were all similar ripoffs
Has to be the largest scam in existence.
Has to be the largest scam in existence. Took me 3 hours to cancel my subscription. I speak English not broken Spanish or whatever language it maybe. They needed a photo of my driver's license. Why? All I wanted to do was close out my account. Before they were done they had every iota of my personal information and it still wasn't closed. Poorest customer service I have ever dealt with. They will definitely never get me back